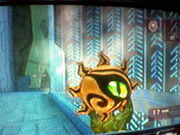 ASE Basketball
is a new
Multiplayer
game mode available in
Conduit 2
.
It is a part of the Team Objective category. When playing under this rule, teams must fight for a centrally located ASE, carry it to the opposing team base, and toss it through a goal ring to score one point; when the match ends, the team with the most goals wins.
The ASE is marked on the HUD with the a target mark that also indicates its distance to the player in meters. Players can toss the ASE using the fire button, this can let players use their weapons, but most importantly, it can be used to score a goal without having to get too close to the enemy base. If the ASE is dropped or tossed into a bottomless pit (like those found in Agartha) it will respawn in the center of the map. Additionally, if a player drops the ASE, and no team is able to claim the ball back for some time, it will respawn back to the center of the map automatically. Like other ASE based game modes, the ball will leave a ghost-like trail and make a loud noise to allow players to find it easier.
Unlike every other Team modes, this one does not feature Control Points.
This is the only game mode where the ASE can be tossed forwardly.
Community content is available under
CC-BY-SA
unless otherwise noted.