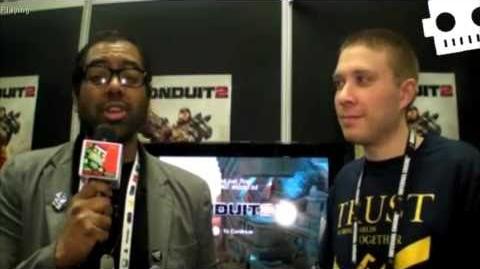 Conduit 3DS is the tentative name of a Nintendo 3DS game being developed by High Voltage Software. It could be the third game of The Conduit saga, but it is unknown if it´s a prequel, sequel or even a Conduit game at all, since all that has been revealed is a tech demo of levels from Conduit 2.
The game uses an adapted version of Quantum 3 Engine, that has also been used for The Conduit and Conduit 2 and other High Voltage Software games. As seen in the gameplay demo from GDC 2011, the game will mix first and third person action and it will feature 3D without glasses, the development team is also looking into incorporating many online features. The title is currently controlled with the slide pad to move and the touch screen is used to aim and other functions like jumping. HVS has also stated that they would like to expand the backstory of some characters from the previous games.
To show how the game could work, High Voltage ported several levels, weapons, enemies, and other elements from Conduit 2 to serve a a tech demo. They have stated that the Q3 Engine was easy to port to the portable console due to its capabilities.
The title is in the very early stages of development and many of the details and features available now are only proof of concept, that may or may not make it into the final product. However, the title may or may not be a Conduit title due to the fact that all High Voltage Software has said is that FPS' work well on the 3DS and used Conduit 2 levels as a demonstration. The likeliness of it being a Conduit game is very high.
Community content is available under
CC-BY-SA
unless otherwise noted.