High Voltage Software
is an independent video game developer company. Its headquarters is located in Hoffman Estates, Illinois, United States and was founded on April 23, 1993.
[1]
During their seventeen years in the video game industry, they have shipped over 75 titles across all consoles available since 1994.
[2]
High Voltage are the creators of the original IP video game
The Conduit
and its sequel
Conduit 2
. They have also developed many other Wii and WiiWare games such as Tournament of Legends. High Voltage Software was also the developer of the anticipated horror genre based shooter '
The Grinder
' which was set for release on October 31st, 2011, but after missing the release date nothing was heard. Recently, High Voltage has released
Captain America:Super Soldier
for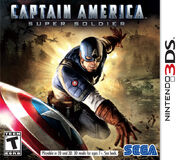 the Wii and 3DS platforms as well as several Nickelodeon games for the XBOX Kinect.

thumb|left|300px|Interview with Eric Nofsinger of High Voltage
Community content is available under
CC-BY-SA
unless otherwise noted.