Why hello there! I am the original admin of this Wiki, and I am QUITE please on how far it has grown!
The other day, I was browsing through the Halo Wiki, when I saw an ad for various gaming Wikis, and the Conduit Wiki, a long with its on picture, was on the ad, thus recognized! I mean, no, I haven't done much to contribute, but I CREATED the Wiki. I just didn't do anything to continue it :)
Anyway, contact me for any questions!
Ekgladiator
Edit
Hi, I am justin, and I would like to help you out. Fisrt off for better infomation here is the site The conduit which should give you plenty of details and references. Ekgladiator 20:20, 6 February 2009 (UTC)

Hello, I'm interested in this wiki. What is it going to be about? Anyways, my suggestion, first go to picture I posted and change the settings under more(top right screen drop down menu) and go to preferences to the ones on that page. New wiki's are never easy, I have done one myself, and to be honest I'm still not proud of it. I'm the mod for Ghostbusters Wiki and Ghosts 'n Goblins wiki. please reply to this on my talk page. Devilmanozzy 10:56, 11 February 2009 (UTC)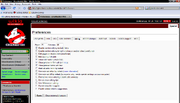 Welcome Back
Edit
I read you may let Ekgladiator be a mod, I'm so for it as he believes in this project. He wants to get this Wiki off the ground and add a skin, and start adding new exciting things to the wiki. I am a user that would support this. Devilmanozzy 23:44, 22 February 2009 (UTC)
Thank you
Edit
thank you and yes if you want me to I accept the job thank you so much for considering me. EkgladiatorTalk 02:06, 23 February 2009 (UTC)
Community content is available under
CC-BY-SA
unless otherwise noted.